"

Congratulations on being a finalist in our cover contest!" - SOJA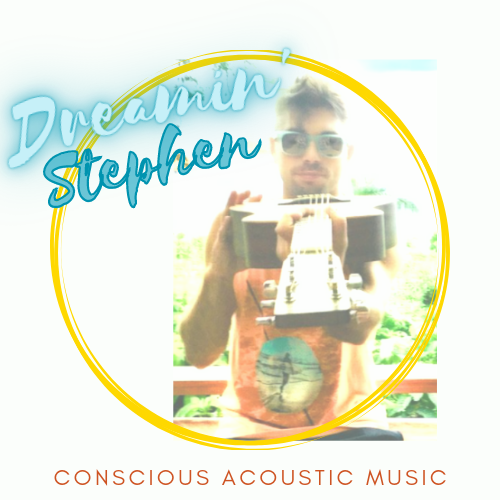 Dreamin'
Inspiring the Inspired!
Acoustic Rock Reggae
Splashing onto the scene during the 2020 Pandemic, Dreamin' Stephen has received accolades from the likes of SOJA & 99.5 Radio Dos in Costa Rica
Combining the vibes of the Dirty Heads, Rebelution, & SOJA, Dreamin' Stephen, is a tribute to the inspiration of Costa Rica & its people.
Dreamin' Stephen infuses musicians & producers from both Costa Rica & the U.S. with the positive & uplifting "Pura Vida" lyrics of international recording artists & producers.
Writing directly about a 2015 "Ah-ha" moment in the song, 'Bumps & Bruises', co-produced with Justin Howes, when Singer/Songwriter Dreamin' Stephen found himself spending over a month in jail, being released just 2 days before his daughter's 1st birthday. 3 weeks later he found himself stepping into paradise & onto Costa Rican soil for the 1st time.
The song 'Beautiful Day', featuring Nancy Buchan on fiddle, Benjammin on lead guitar, & producer Chordy Teagle, is inspired by a car accident Dreamin' Stephen survived when he rolled his car & it caught on fire. "I remember waking up in the hospital & thinking that my life was NOW in bonus time, and it's a beautiful day," said Dreamin' Stephen.
You can Pre-Order Dreamin' Stephen's uplifting E.P. 'Prison to Paradise' through Que Mae Productions which is set to release in early 2022.
Chapter 1: The Beginning
The Beginning doesn't always start where we think it does. For me the beginning just started in 2022. I met a beautiful community of like-minded individuals that help heal childhood traumas. They introduced me to their breakthrough process that helps heal generational traumas. I have been lead through MANY breakthroughs where these traumas have escaped through bouts of crying because we must "feel it to heal it!"
My tears were shed for not having a true childhood and putting everyone around me first. After feeling the hurt and pain from the simple act of my Father leaving for work. I would cry hysterically just wanting him to be there with me. This laid a foundation for my ego to "protect me" from being hurt and creating a life of toxic masculinity.

Chapter 2: The Creation
This lead to an event where I was standing up for my brother where some "friends" were picking on him. One of the guys jumped me in middle school leading to 5 years of being the recipient of social bullying. I went to high school and walked as quietly as I could through those 4 years of my life.

I turned to drinking as a junior, taking a scope bottle of vodka with me to school and doing shots in the morning classes. I also found myself carrying the "Anarchist Cookbook," learning to create Molotov Cocktails among other explosives. I finally found an outlet in poetry which then turned to lyrics for songs I started writing. That was the beginning of my passion for music...